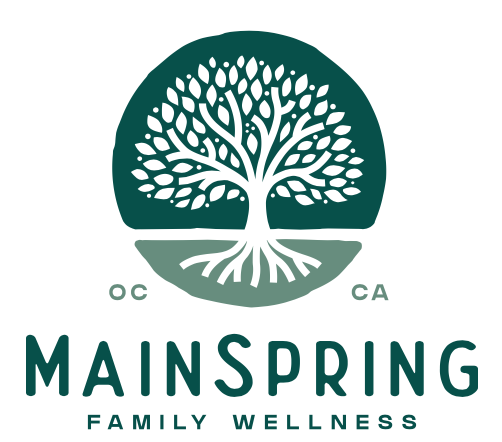 On episode 46 of the Mainspring Family Wellness Podcast, Christopher Tansey, the owner of Cereset Costa Mesa, sits down with Jenna and Kristen to talk about Cereset, the technology that helped both himself and his father overcome traumatic brain injuries and ultimately achieve a balanced brain for an improved quality of life.
Episode 46
Cereset, How a Balanced Brain Can Improve Your Life
02:12
[Christopher talks about the brain trauma that his father endured as well as the surgery he had to remove a cyst in his brain, and how those two events led father and son to seek alternative modalities for improved cognitive functions]
04:48
[Christopher shares about prior treatments that relied heavily on medication]
05:43
[Christopher describes his cognitive functions post cyst removal surgery]
06:32
[Christopher discusses his reliance on medication and what prompted him to seek Cereset technology]
08:53
[Christopher explains the science behind Cereset technology]
10:13
[Christopher talks about how the technology was developed by someone who also experienced traumatic brain injury]
10:48
[Christopher provides some statistical framework around the effectiveness of the sessions]
11:45
[Christopher describes the conditions that might prompt patients to seek Cereset]
12:56
[Jenna talks about her own experience with Cereset sessions and her own personal findings]
14:35
[Christopher dives deeper into how a Cereset session can impact your brain]
15:24
[Christopher gives a little background on the difference between Cereset technology and Neurofeedback]
16:08
[Christopher talks a little about a "balanced" brain, what that means]
16:52
[Christopher provides more background on the science behind the sessions]
18:26
[Christopher shares a couple of success stories he's facilitated with Cereset and the impact the technology has on better sleep]
21:22
[Christopher highlights some key features regarding Cereset's natural, non-invasive approach at balancing the brain]
22:16
[Where to find Christopher and Cereset Costa Mesa]
GUEST: Christopher Tansey
Owner of Cereset Costa Mesa
Connect with Christopher Tansey
LinkedIn: Christopher Tansey
Connect with Cereset
Website: Cereset
Facebook | Instagram | Twitter | LinkedIn
Connect with Mainspring Family Wellness:
Website: Mainspring Family Wellness
Facebook | Instagram | LinkedIn
Connect with Kristen & Jenna:
Kristen: LinkedIn
Jenna: LinkedIn
This podcast is for educational purposes only. This podcast is not a substitute for professional care by a doctor or other qualified medical professional. This podcast is provided on the understanding that it does not constitute medical or other professional advice or services. If you are looking for help on your journey, seek out a qualified medical practitioner.