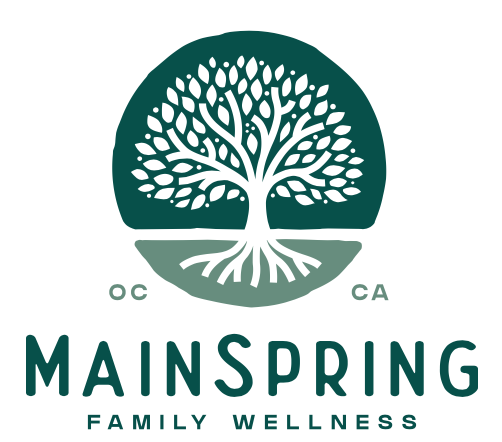 Episode 45 of the Mainspring Family Wellness Podcast is a riveting discussion around men and marriage with Quentin Hafner, a licensed Marriage and Family Therapist practicing in Newport Beach, and the particular challenges of a modern marriage from a male perspective.  The conversation touches upon the impact of a traditional male upbringing, cultural depictions of men, gender differences in communication styles, and the presence of shame in marriage and fatherhood.
Episode 45
Men & Marriage, The Other Half of the Conversation
02:29
[About Quentin Hafner, his personal life and his work as a licensed marriage and family therapist]
03:49
[Explanation on common challenges men face in marriages]
06:08
[Discussion on the generational evolution of what it means to be a husband]
10:28
[Discussion on the role of gender biases as it relates to a marriage]
12:51
[Discussion around communication styles and the difficulty men have connecting with spouses on an emotional level]
15:50
[Discussion on male archetypes present in communication styles]
17:14
[Discussion around distraction as a coping mechanism and the lack of emotional learning in childhood]
18:06
[Definition of the term "high-value husband"]
20:09
[More conversation around the gender divide within communication styles and how to work around those differences]
23:05
[Discussion on vulnerability as a conduit for connection and more productive conversations]
27:18
[Conversation around the presence of shame in men when it comes to parenting and relationships]
30:27
[Discussion on conversation dynamics and tools for effective communication]
32:16
[Conversation on how the culture of men is depicted in public arenas and the media]
37:05
[Conversation around the need to be more thoughtful about the current societal pressures of being a man]
39:43
[Promotion of Quentin's subscription services for men, a therapy resource for men]
41:57
[Conversation close with Quentin]
42:34
[Summary of takeaways with Jenna & Kristen]
GUEST: Quentin Hafner
Quentin Hafner is a licensed Marriage & Family Therapist in private practice in Orange County, CA where he specializes in helping people find solutions to life's challenges that result in more personal & professional fulfillment. In particular, Quentin loves working with men in the context of couples therapy to help them discover their hidden potential to be better Dads & better Husbands.
In 2018, Quentin wrote and published an Amazon.com #1 best-selling marriage book Black Belt Husbands to help husbands solve challenges in their marriages.
Quentin is happily married and a father of two young boys, Levi & Samuel. In his spare time, he trains in Brazilian Jiu-Jitsu, loves to surf, go camping, and trail running in the most incredible nature preserves in Orange County.
Connect with Quentin Hafner:
Website: Quentin Hafner
Website: Black Belt Husbands
Facebook | Instagram | Twitter | LinkedIn
Connect with Mainspring Family Wellness:
Website: Mainspring Family Wellness
Facebook | Instagram | LinkedIn
Connect with Kristen & Jenna:
Kristen: LinkedIn
Jenna: LinkedIn