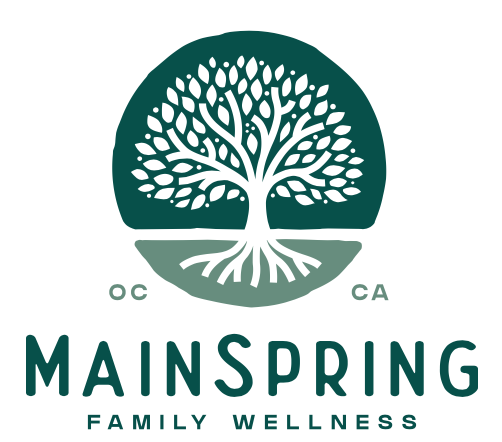 Episode 44 of the Mainspring Family Wellness Podcast is a thoughtful conversation about the plight of detained immigrants in Orange County as part of our Nonprofit Spotlight Series. Jenna & Kristen talk to Sabrina Rivera, the Executive Director of the Orange County Justice Fund (OCJF), a nonprofit organization dedicated to empowering transformative change in the immigration system to assist the most vulnerable immigrants and refugees in Orange County, impacted by detention and deportation. Since the organization's inception in 2017, OCJF has provided funds to secure the release of 66 detained immigrants and provided bond recipients with legal representation, due process rights, and services for community re-integration.
Episode 44
Nonprofit Spotlight featuring Sabrina Rivera, Executive Director of the Orange County Justice Fund:
02:41
[About Sabrina Rivera, how Sabrina got involved with the Orange County Justice Fund]
03:58
[About the Orange County Justice Fund, its inception, mission and services provided]
08:29
[Discussion around the adults and children currently detained]
10:11
[Circumstances under which children are separated from their parents in detention]
14:09
[Stories of people under detention and facing deportation]
16:30
[Description of conditions at local detention facilities]
20:41
[A specific case of a woman from El Salvador seeking asylum after facing years of abuse with OCJF's assistance]
28:19
[Discussion around the current influx of Ukrainian refugees and the United States' response]
29:06
[Discussion around systemic issues that impact government reform]
33:45
[Discussion around mental health issues for those in detention and their families]
36:30
[Sabrina's own immigration journey culminating in her involvement in immigration reform]
37:59
[Promotion of OCJF's upcoming fundraiser and how listeners can get involved]
GUEST: Sabrina Rivera
Sabrina Rivera is the Executive Director for the Orange County Justice Fund (OCJF), an organization dedicated to generating support for transformative change in the immigration legal system and reaching the most vulnerable impacted by immigration detention and deportation. Ms. Rivera is formerly the supervising attorney at the Central American Resource Center (CARECEN) for the California State University (CSU) Project which provides immigration legal services to eight CSU campuses in Southern California in affirmative and removal defense cases. Before CARECEN, Ms. Rivera served as the staff attorney at Western State College of Law's (WSCL) Immigration Clinic in Irvine where she directly represented clients in a range of matters, including deportation defense, humanitarian visas for survivors of violence, citizenship, and asylum. She also supervised and mentored law students enrolled in the Immigration Clinic on cases and community-based education initiatives throughout Orange County. Ms. Rivera is a former Adjunct Lecturer at UC Irvine Law Immigrant Rights Clinic and served as Adjunct Faculty at WSCL for six years, where she taught a lawyering skills class. She is the former chair of the Orange County Bar Association's Immigration Section. She received her JD from Loyola Law School, Los Angeles, and her BA in Chicana/o Studies and Political Science from California State University, Dominguez Hills.
Connect with the Orange County Justice Fund:
Website: Orange County Justice Fund
Facebook | Instagram | Twitter | LinkedIn
Connect with Mainspring Family Wellness:
Website: Mainspring Family Wellness
Facebook | Instagram | LinkedIn
Connect with Kristen & Jenna:
Kristen: LinkedIn
Jenna: LinkedIn